[google-translator]
Haldighati
Haldighati The pride of Rajsamand District, "Haldighati" in known across the globe for the chivalrous deeds of the great Maharana Pratap. 44 kilometers from Udaipur and 17 kilometers from Nathdwara it is nestled in the middle of the Aravali range. This narrow turmeric coloured mountainous region which played a stellar role in defending the honour […]
Book Now
Ask a Question
Haldighati
The pride of Rajsamand District, "Haldighati" in known across the globe for the chivalrous deeds of the great Maharana Pratap. 44 kilometers from Udaipur and 17 kilometers from Nathdwara it is nestled in the middle of the Aravali range. This narrow turmeric coloured mountainous region which played a stellar role in defending the honour of Mewar dynasty, is known as Haldighati.
When Mughal commander attacked this region but had to beat retreat having been licked by the forces led by Maharana Pratap . Employing the guerilla warfare technique, the Rajput forces pushed the Mughals from the royal camp at Badshah Baag to open plains of Rakt Talai (Village Khamnor ). Accustomed to warfare in open plains, the mughal forces fought with Pratap but the outcome was indecisive. Maharana Pratap, astride his favourite stead "CHETAK" attacked Man singh with his spear killed the mahout while Man Singh managed to escape. During the encounter, one of Chetak's hind legs was wounded from sword held in the elephant's trunk creating an emergency.
Haldighati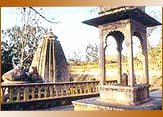 The extensive terra firma, towards the south west of Nathdwara, this historical site witnessed the great legendry battle fought between Maharana Pratap and the Mughal Emperor -Akbar in 1576 AD. See Your AD Here The vast terrain that was supposedly covered with blood (the sand turned Red in colour) evokes a chill in the spine till date and envelopes a feel of nostalgia, this was the place where the heroic Chetak the gallant charger with his dedicated loyalty towards his chivalrous master (the Maharana Pratap) proved his worth by co-operating till his last breath.